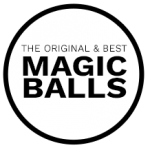 The original and the best – first launched by us 25 years ago.
Magic Balls are the most effective way to clean glass vases, decanters, flasks, water bottles and any awkward containers. Swirl them around with a little water, rinse and dry. Reusable.
Each counter-top POS (21 x 18 x 7cm) contains 40 units. 2 x POS per outer carton (ie 80 units).
If you are interested in stocking Magic Balls, please click here for a trade price list or contact us for samples.